BADD

Timing Issues Resolved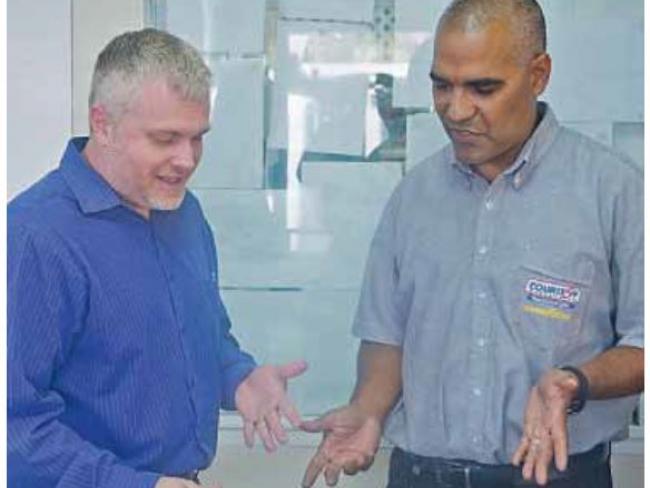 Newly elected Chairman of the Barbados Association of Dragsters and Drifters, Jason Downey (left), and manager of the GoodYear tyres department at Courtesy arage, Mark Wilson, discussing the itinerary of the racing season. (Picture by Trevor Thorpe)
(Nation Newspaper 2016-02-06)
by TREVOR THORPE
NO MORE timing problems for the Barbados Association of Dragsters and Drifters (BADD).
That is because the association now has the additional equipment needed to help eliminate the timing anomalies experienced during the race meet at Paragon, Christ Church.  
Newly elected BADD chairman Jason Downey said the equipment will be used for the first time in St Lucia at the drag race meet from April 22 to 24.
The St Lucia event was first scheduled to take place from February 20 to 22 as part of that country's 37th anniversary of Independence, but adjacent construction in the area caused the organisers to reschedule the meet.
"It will be held in Vieux Fort on an old airport runway 1.5 miles long. Each side of the drag strip has three lanes – unprepped, prepped and return lane. Unprepped means as is,  prepped is coated with a compound called track bite, which is designed to give improved grip on launch, lowering overall times," Downey said.
First competitors confirmed
He said the organisers, the Lucia Street Riders Motorcycle Club, had asked BADD to run the event.
Two competitors, Graeme Finlayson in a Westfield and Kelvin "Bird" Daniel on a Kawasaki motorcycle, are the first competitors confirmed for the St Lucia outing, but organisers said that the rescheduling could make for a stronger Barbados contingent.
Speaking to the SATURDAY SUN after a meeting with longstanding corporate partner GoodYear Tyres, the chairman said the recently-held annual general meeting had put a new executive in place and the association was ready for the 2016 season.
Downey, himself a former champion driver of the club, said their season would be decided over five events beginning on April 3 with Drag Warz 1 at Bushy Park, followed by an acceleration test at the Barbados Defence Force base at Paragon, Christ Church. The remaining three events are slated for July 10, September 11 and October 30 at Bushy Park.
GoodYear Tyres department manager Mark Wilson, in confirming their support for the club, said that the company was pleased with the way drag racing had developed over the years in Barbados and was looking forward to an even more competitive season.