Griffith

sets new driving record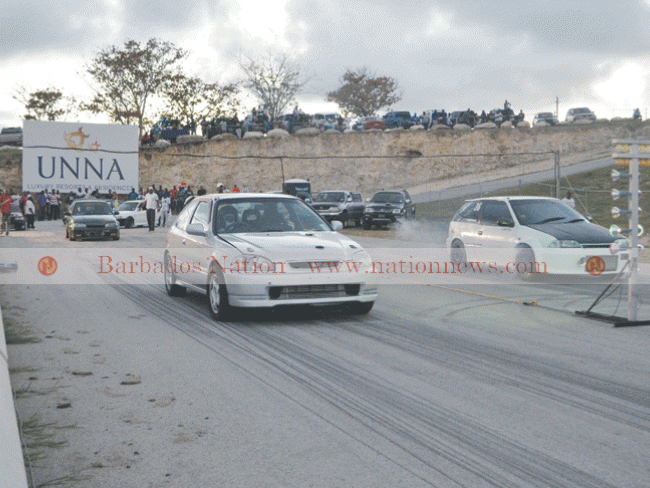 KEVIN GRFFITH (right) in a turbocharged Suzuki Swift Griffith GTi competing against Anthony Mayers in a Honda Civic. Griffith set a new record for front wheel drive cars of 8.226 seconds
(Nation Newspaper 2016-04-08)
by TREVOR THORPE
KEVIN GRIFFITH wrote his name in local drag racing history books as dragsters disposed of the GoodYear Tyres/Courtesy Car Rentals/ Tropical Battery Drag Warz 1 organised by the Barbados Association of Dragsters and Drifters (BADD) at Bushy Park last Sunday.
Driving a turbocharged Suzuki Swift, Griffith was all business from the free practice and qualifying as he posted a new record for front-wheel drive cars of 8.226 seconds over the 1/8 of a mile strip, erasing the old mark of 8.561 seconds set by Shawn "Shortman" Eversley last year, driving a similar machine.
During qualifying he had gotten past David "Bally" Balgobin in a Mitsubishi Lancer Evo, while in the head-to-head clashes went past Pedehel Williams before turning in his record run in the 8-8.5 seconds category.
Another driver catching the eye was Robert Bishop at the wheel of a well prepared Mitsubishi Lancer Evo V who returned the day's fastest time for the 1/8 of a mile strip of 6.827 seconds.
New chairman Jason Downey, himself a former champion driver of the club, thanked the drivers, fans, marshals and other volunteers for the event, which he said had the best quality field the club had ever seen.
"We could have had an event for the Evolutions on their own. We have never had a full 'eight-car tree' for the 8-8.5 second bracket and another full 'eight-car tree' for the seven second bracket. A job well done guys," he noted.
Adding that the event looked to have been a success, he said the debriefing and prize-giving ceremony will be held at the Barbados Rifle Association clubhouse at Paragon, Christ Church, where discussion will take place on the venue for the next event scheduled to take place on May 15 and called on members to keep the momentum up.
Rookie Ross Callender in a Diahatsu Charmant was in excellent form and drove away with the honours at stake for the 8.5 - 10 seconds category with a time of 9.564 seconds, while Jeremy Greenidge in a Mitsubishi Mirage won the 8 - 8.5 seconds category when he returned a time of 8.375 seconds.
Jamal Batson in a turbocharged Mitsubishi Lancer Evolution IV, who stormed onto the scene three years ago and has not been a regular competitor since, returned to win the seven seconds category with a time of 7.868 seconds, while Mathew 'DMZ' Forde in the Maximo Batteries/Forde's Auto/Hunte's Auto Spares/Slam 101FM Mitsubishi Lancer Evolution III carried off the six seconds category with a time of 6.921 seconds.
Forde also returned the best 60 foot time of 1.642 seconds, while Greame Finlayson recorded the best reaction time of 0.071 seconds. Twenty-six drivers contested the day's action.
Upcoming Events
Stay tuned for our upcoming events!
Driver Profiles