BADD

Lights Up St. Vincent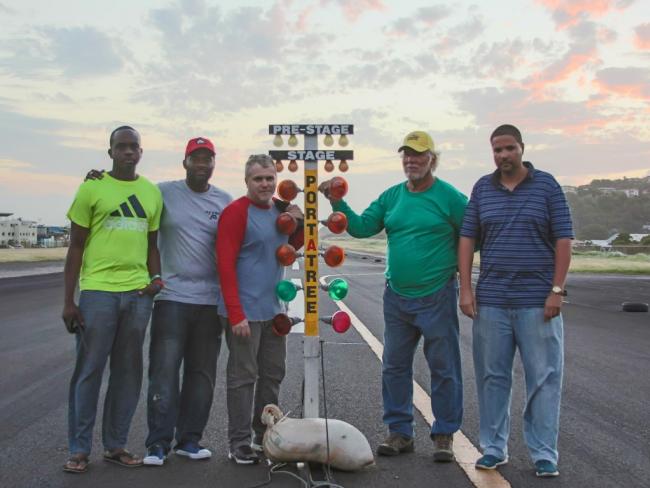 The Barbados Association of Dragsters and Drifters (BADD) sent a team and its timing equipment over to St. Vincent on March 5 and 6 to run the "Induction" event – a quarter mile drag race on the runway of the newly decommissioned E.T. Joshua Airport in Arnos Vale.
BADD Chairman Jason Downey recounted "We got a call from Andre Harry, the promoter of the event.  When we heard that they got permission to use the runway, we just couldn't turn down the opportunity to help out.  St. Vincent only does 1/8 mile acceleration tests, so to have a side-by-side full quarter mile was quite a draw".
"SVG drivers normally go over to St. Lucia or Grenada to compete, but as you can appreciate, not everyone can afford to do that.  This event brought out close to 60 cars and bikes.  Most of these guys have never used the 'tree' before.  After some advice from the Bajans, you could see the improvements as the weekend progressed".
"BADD is definitely going back… and next time we want to take some of the Bajan cars with us.  It's an amazing opportunity and the Vincies looked after us very well".
The fastest car of the weekend was Sherman Joseph clocking 11.567 seconds in his Nissan Pulsar, while Clyde Sutherland rode off with 10.546 on a Honda motorcycle.  There were also separate categories for Suzuki Samurais and pickup trucks.  The event was organized by the Vincy Motorsports Club and the SVG Professional Auto Racing Club.
The next event on the local racing calendar for BADD is drag practice at Bushy Park's track day on Sunday March 12 from 3:30 PM, followed by the 2017 season opener "Launch Control" at Bushy Park on Sunday March 26 from 12 noon.
PHOTO
(James Cox, Andre Harry (SVG), Jason Downey, Colin Goodman, Bradley Hill)
(photo by Brent Defreitas)
Upcoming Events
Stay tuned for our upcoming events!
Driver Profiles